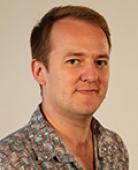 Lecturer
Facility:
Biography
Dr Elvis Pandzic is a Lecturer and Advanced Fluorescence Microscopy Specialist at UNSW, working at Biomedical Imaging Facility (BMIF) at UNSW's Mark Wainwright Analytical Centre (MWAC). 
He received his PhD in Biological physics in 2013 at the McGill University (Canada) during which he developed novel image fluctuation correlation analysis tool allowing the study of membrane protein confinement.
During his career he worked on development of several extension of these bespoke image analysis tools, by which one can quantify fluorescence microscopy images to measure protein density, oligomerization, co-localization and dynamics in live cells. His current work at BMIF involves applying those methodologies and developing and adapting the new ones tailored to answer the biomedical problems for the researchers at UNSW and beyond.
Publications
Book Chapters
Pandzic E; Wiseman, PW PWW, 2017, 'Probing Membrane Heterogeneity with k-space Image Correlation Spectroscopy', in Chattopadhyay A (ed.), Membrane Organization and Dynamics, edn. Springer series in biophysics, Springer, pp. 146 - 166
Pandzic E; Wiseman PW, 2017, 'Probing Membrane Heterogeneity with k-space Image Correlation Spectroscopy', in Chattopadhyay A (ed.),
MEMBRANE ORGANIZATION AND DYNAMICS
, SPRINGER-VERLAG BERLIN, pp. 147 - 165,
http://dx.doi.org/10.1007/978-3-319-66601-3_7
View more
Conference Abstracts
Conference Papers
Conference Presentations
Journal articles
View less
Location
Lowy Cancer Research Centre (C25)
Room LG11


Contact
+61 (2) 9065 2212
+61 409 938 510