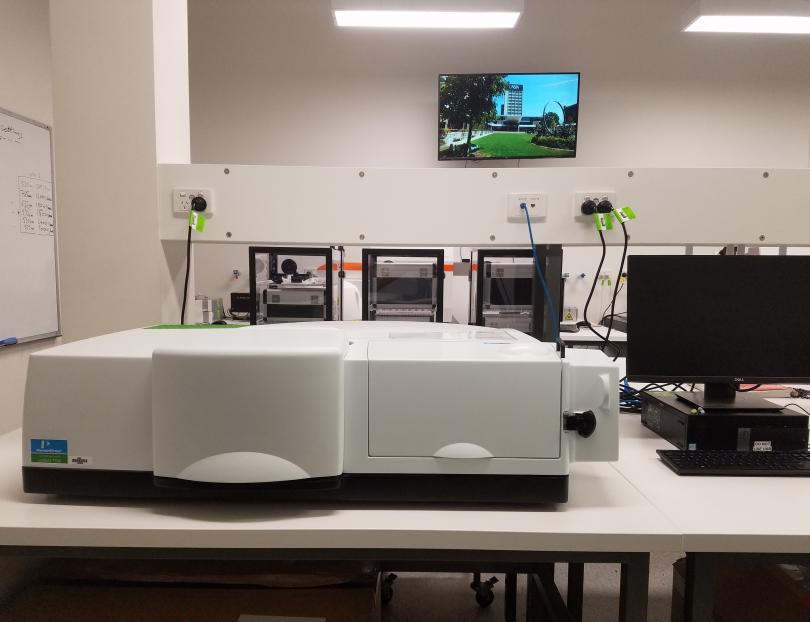 The Lambda 1050 is a double-beam UV/Vis/NIR with a triple detector for maximum sensitivity across the available wavelengths from 175 nm to 3300 nm (7.1 eV to 0.4 eV). It can analyse a wide range of sample types from liquids, solutions, transparent solids, powders and thin films on substrates. Each sample type requires a different accessory, so contact the facility staff first to ensure the instrument is configured correctly.  
The 3 accessories available are:
3-detector wide-band module that allows optical transmission or absorption measurements of liquid and solid samples in the range of 175-3300 nm (7.1-0.4 eV)

150 mm i

ntegrating sphere for the analysis of scattering samples and samples with variable thickness for the collection of diffuse and specular transmission and reflectance measurements of solid, liquid and powder samples at the range of 250-2000 nm (5.0-0.6 eV)

Universal reflectance accessory for the measurement of absolute specular reflectance for samples 8 mm to 15 cm in size from 8° to 68° in the range of 200-2500 nm (6.2-0.5 eV).