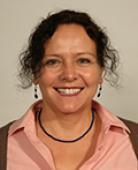 Scientific Officer
Facility:
Biography
Scientific Officer in the Spectroscopy Laboratory. Responsible for user training, instrument management and maintenance. The first contact for guidance and interpretation of data for undergraduate and post-graduate students, and external users of the laboratory.
Qualifications
BSc (Hons) USyd., PhD (Chemistry) USyd.
Background
• X-ray Instrument Specialist in the Bragg Institute, ANSTO.
• Postdoctoral Research Fellowships at University of Sydney, University College London (UK), and Dartmouth College, Hanover (USA).
• Research Chemist - Electrochemistry, Polartechnics, Sydney.
Publications
Conference Abstracts
Braidy N; Poljak A; Marjo C; Rutlidge H; Rich A; Inestrosa N; Sachdev PS, 2017, 'Identification of Cerebral Metal Ion Imbalance in the Brain of Ageing Octodon Degu: a Natural Model for Alzheimer's Disease [Poster Abstract P2-080]', in
Alzheimer's and Dementia
, Elsevier, London, UK, Vol. 13, pp. P636 - P637, presented at Alzheimer's Association International Conference (AAIC) 2017, London, UK, 16 July 2017 - 20 July 2017,
http://dx.doi.org/10.1016/j.jalz.2017.06.729
Conference Papers
Marjo CE; Bhadbhade M; Kumar N; Aldilla V; Rich A; Bhattacharyya S, 2017, 'Crystal engineering of self-complementary NH center dot center dot center dot N chloro-triazine tapes', in
ACTA CRYSTALLOGRAPHICA A-FOUNDATION AND ADVANCES
, INT UNION CRYSTALLOGRAPHY, pp. C673 - C673,
http://dx.doi.org/10.1107/S2053273317089008
View more
Location
Spectroscopy Laboratory
Ground Floor, Room G31
Chemical Sciences Building (F10)
UNSW Sydney
Kensington NSW 2052



Contact
+61-2-9385 9795
+61-2-9385 4663