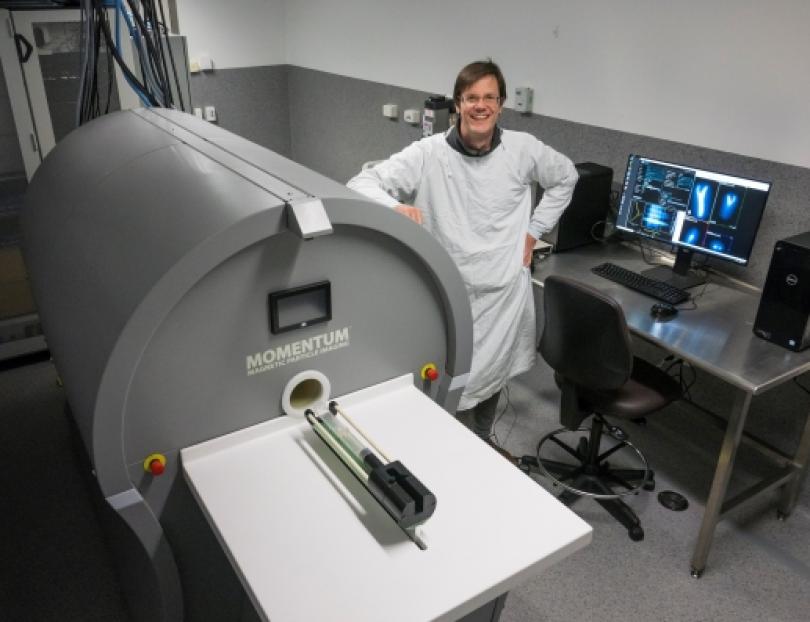 UNSW Dr Andre Bongers standing next to Australia's first Magnetic Particle Imaging facility.
---
Imaging technology at UNSW Sydney will help researchers discover new methods to diagnose and treat a wide spectrum of diseases.
UNSW has established the first Magnetic Particle Imaging (MPI) facility for pre-clinical research in Australia. The 1.4m facility was funded by a grant from the Cancer Institute NSW and contributions from the National Imaging Facility (NIF) Australia and UNSW.
The new MPI technology will be used by researchers from UNSW Medicine and Engineering for a wide spectrum of research in cancer, neuroscience, method development and clinical translation.
Dr Andre Bongers, who is responsible for magnetic imaging technologies at UNSW said: "MPI is an emerging molecular imaging technology that promises to help researchers discover new methods to diagnose and treat many diseases."
Professor Maria Kavallaris AM, Founding Director of the Australian Centre for NanoMedicine at UNSW and Head of Translational Cancer Nanomedicine at the Children's Cancer Institute said that the new MPI facility will allow the tracking and measurement of healthy and diseased cells and tissues with high precision.
"This new technology will allow us to track and identify how and where cancer cells move and spread in the body. This knowledge will enable us to develop new cancer therapies and track their effectiveness," Professor Kavallaris said.
Diagnostic imaging plays an important role in the detection and localisation of diseases.  'Molecular imaging' technologies enable very sensitive localisation of active disease areas. Such methods use injectable agents called 'tracers' that act to selectively identify these regions within the body.
Graham Galloway, CEO of the National Imaging Facility said that the technology will be embedded in a national network of imaging facilities to support researchers across Australia.
"The National Imaging Facility is excited to be partnering with UNSW to bring this new technology to Australia. NIF Fellows at UNSW are ready to help researchers understand the contribution it can make to their research, and design experiments that add a new dimension to understanding of physiology and disease," Professor Galloway said.
Application in cancer research
The new MPI facility will provide researchers with the ability to develop new agents for monitoring and treatment of cancer, atherosclerosis and dementia. 
With its exceptional sensitivity the system enables three dimensional images of cancer targets, while measuring blood supply and tracking of tracer loaded cells for cell therapy and diagnosis.
The MPI facility will be used in a current UNSW cancer research project led by Professor Richard Lock from the Children's Cancer Institute to track residual leukemia cells that may hide from therapy. The project aims to develop methods to trace and reduce recurring disease in children. 
Located in the Lowy Cancer Research Centre, the new facility will be managed by the Biological Resources Imaging Laboratory of UNSW's Mark Wainwright Analytical Centre.
See the UNSW Newsroom article here