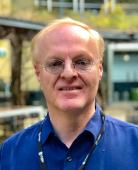 Principal Scientist (Small Molecule Analysis)
Facility:
Biography
Currently Principal Scientist, BMSF and Adjunct Senior Lecturer, UNSW School of Optometry and Vision Science.
Martin P Bucknall graduated from the University of Manchester BSc Physics (1987), and subsequently worked as an Instrumentation Engineer with Waters Corporation in England.
In 1994 he joined the Inherited Diseases of Metabolism Research Group at the King Faisal Specialist Hospital and Research Centre, in Riyadh, Saudi Arabia, where he played a key role in setting up the first neonatal screening program for Inherited Errors of Metabolism (IEM's) in the Middle East. The analytical approach involved rapidly quantifying acylcarnitines and amino acids in dried blood spots (collected on filter paper and mailed into the laboratory) using stable isotope dilution flow injection electrospray tandem mass spectrometry. A data reduction algorithm (CAMPA) to recognize abnormal metabolite levels was successfully developed and evaluated by Martin and the team. This facilitated quantitative analysis of more than 30,000 samples for 27 biomarkers in just 2 years, using a single instrument.
Martin moved to UNSW in 1998 and worked as Research Services Manager at the Biomedical Mass Spectrometry Unit, eventually enrolling to study part-time in the School of Physiology and Pharmacology (Faculty of Medicine) for a PhD. His PhD research "Dityrosine as a biomarker of free radical induced oxidative damage in diseases of ageing", involved measuring nanomolar levels of o, o'-dityrosine, with high levels of specificity, in human biological matrices and attempting to correlate levels (normalized to tyrosine or creatinine) with states of inflammation and subject age.
Since graduating in 2007, Martin has been employed as Principal Scientist (Small Molecule Analysis) at the Bioanalytical Mass Spectrometry Facility (BMSF) in the Mark Wainwright Analytical Centre (MWAC) at UNSW Sydney.  His main role is the supervision of PhD and Postdoc work involving mass spectrometry for projects originating from research schools across the UNSW campus.
Martin also engages in commercial / legal / forensic analytical work and consulting.
My Research Activities
Typical recent experimental projects (2019) include:
Measurement of trace reproductive steroid hormone levels in limited-volume ocular matrices using the Q-Exactive UPLC-MS/MS.

Semiochemical signaling in wild dingo populations / Prey naivety among Australian native marsupials towards European predators.

Methods for the assessment of nitrogen fixation catalytic strategies: trace level measurement of hydrazine and (direct measurement of) ammonia.

Quantification of phenolic acids, flavonoids, carotenoids and anthocyanins as antioxidants in fruits and vegetables. Folate analysis.

Contaminants resulting from the environmental degradation of solar cells.

Interaction of carotenoids and anthocyanins in an artificial gut system / measuring synergistic or antagonistic effect upon antioxidant capacity.

Biodiesel analysis / quantification of fatty acids and tocopherols in plant derived oil products. 

Monitoring strategies for the recovery of useful aromatic hydrocarbons in industrial recycling operations.

Protein-Hapten binding studies using MALDI-tof analysis
Publications
Book Chapters
Chandra-Hioe MV;Arcot J;Bucknall MP, 2014, 'Applications of UHPLC–MS/MS for the quantification of folate vitamers', in
Ultra Performance Liquid Chromatography Mass Spectrometry: Evaluation and Applications in Food Analysis
, pp. 115 - 127,
http://dx.doi.org/10.1201/b16670
View more
Conference Papers
Conference Posters
Chandra-hioe M;Bucknall MP;Pickford R;Arcot J, 2010, 'The levels of Folic Acid and 5-Methyl Tetra Hydrofolate in Australian fortified bread', Copenhagen, presented at 1st International Vitamin Conference, Copenhagen, 19 - 21 May 2010
Chandra-hioe M;Bucknall MP;Pickford R;Arcot J, 2010, 'The Levels of Folic Acid and 5-Methyl Tetrahydrofolate in Australian Fortified Breads', Copenhagen, presented at 1st International Vitamin Conference, Copenhagen, 19 - 21 May 2010
Journal articles
View less
Location
BMSF
Room 404A, Wallace Wurth Building (C27)
UNSW Sydney NSW 2052


Contact
02 9385 4707
02 9385 3950