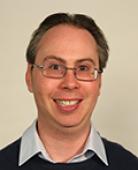 Senior Technical Officer
Facility:
Biography
Role
My role facilitates research capability for a wide range of small molecule mass spectrometry analysis and characterisation within the Mark Wainwright Analytical Centre. 
As part of this my research interests stretch across many diverse areas of Science but predominantly focus on metabolomic profiling and stable isotope geochemistry.  I also support many different forms of chromatography, enabling GC, HPLC, AF4 and GPC analysis within MWAC. 
Research interests
Metabolomic Profiling
My interests involve development of analytical methods to improve microbial metabolic profiling, including the analysis of soil bacteria and fungal metabolites involved in bio-remediation by GC/MS.
Stable Isotope Geochemistry
My interests involve the analysis of inorganic carbonate samples by IRMS.  Examples of samples analysed include speleothems and coral, for paleoclimatology studies, and bone or teeth for paleontological studies.
Publications
Conference Papers
Madayag E; Graham I; Quan H; Worland R; Adler L; Dietz C, 2021, 'Mineralization, Alteration Assemblages and Stable Isotopes of the Intermediate-Sulfidation Epithermal Strauss Deposit, Drake Goldfield, North-Eastern NSW, Australia', in
The 2nd International Electronic Conference on Mineral Science
, MDPI, pp. 27 - 27, presented at IECMS 2021, 01 March 2021 - 15 March 2021,
http://dx.doi.org/10.3390/iecms2021-09350
Lim WW; Bucknall MP; Adler L; McKenzie DR; Suaning GJ, 2015, 'On the use of test gases of various radii to investigate molecular sieving in leak channels', in
On the use of test gases of various radii to investigate molecular sieving in leak channels
, IEEE, Milan, Italy, pp. 813 - 816, presented at 37th Annual International Conference of the IEEE, Milan, Italy, 25 August 2015 - 29 August 2015,
http://dx.doi.org/10.1109/EMBC.2015.7318486
View more
Conference Presentations
Markowska M; Baker A; Andersen M; Cuthbert M; Rau G; Jex C; Graham P; Rutlidge H; Hua Q; Mariethoz G; Marjo C; treble P; Adler L, 2015, 'Cave stalagmites as recorders of past recharge frequency and changes in aridity', presented at Australian Groundwater Conference, Canberra, 03 November 2015 - 05 November 2015
Journal articles
View less
Location
Rm B48, Basement, Chemical Sciences Bldg (F10)


Contact
+61 (2) 9385 7739