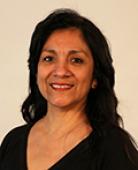 Analytical Chemist
Facility:
Biography
Education
BChem(Hons)(Analytical Chemistry), San Marcos National University, Peru
MChem(Food and Drug Analysis), UNSW Australia
Role & Interests
My work involves the characterisation and/or quantitation of small molecule metabolites in biological systems by GC-MS and LC-MS. Current projects/assays include: Isotope dilution GCMS; Analysis of catecholamines & Kynurenine Pathway metabolites; Nitrates and Nitrites; Glucose; Hormones; Acetylecholine and other quaternary ammonium biological amines; Vitamin D and metabolites. My interest is in targeted metabolomics and the development of quantitative methods. Other duties include training students and other users in the laboratory as well as instrumental techniques.
Publications
Book Chapters
Jayasena T; Bustamante S; Poljak A; Sachdev P, 2022, 'Assay of Fatty Acids and Their Role in the Prevention and Treatment of COVID-19', in
Multiplex Biomarker Techniques: Methods and Applications for COVID-19 Disease Diagnosis and Risk Stratification
, Springer US, New York, NY, USA, pp. 213 - 234,
http://dx.doi.org/10.1007/978-1-0716-2395-4_16
Jayasena T; Bustamante S; Clement J; Welschinger R; Caplan GA; Sachdev PS; Braidy N, 2020, 'Clinical Assessment of the NADome as Biomarkers for Healthy Aging', in Guest PC (ed.),
Clinical and Preclinical Models for Maximizing Healthspan Methods and Protocols
, Humana, pp. 207 - 216,
http://dx.doi.org/10.1007/978-1-0716-0471-7_13
View more
Conference Abstracts
Conference Papers
Journal articles
Working Papers
View less
Location
Rm 404A, L4 NW, Wallace Wurth Bldg (C27)



Contact
+61 (2) 9385 1613
+61 (2) 9385 3950