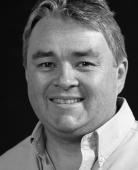 Head, Preclinical Imaging and Biospecimen Research Facilities; Program Lead – Health Research Platforms; National Imaging Facility Node Director
Facility:
Biography
Dr Carl Power heads multiple facilities in the Mark Wainwright Analytical Centre including the Biological Resources Imaging Laboratory, the UNSW Flow Cytometry Facility, Biospecimen Services and Cold Storage Services. He is also the Program Lead for UNSW Health Research Platforms, and a Node Director for the UNSW Node of the NCRIS-supported project, the Australian National Imaging Facility.
Research Interests:
As Head of BRIL, Dr Power has diverse interests in preclinical imaging techniques including MRI, PET, CT, Optical Imaging and Ultrasound and their application to research. Dr Power's research in the area of cancer biology in general, and specifically prostate cancer biology, is focused on use of animal models to identify mechanisms of prostate cancer metastasis to bone, immune responses to prostate cancer and its bone metastases and preclinical assessment of treatments to prevent bone metastasis.
Broad Research Areas:
Preclinical Imaging, Cancer, Immunology, Cell Biology
Qualifications:
Dr Power completed a PhD in the Department of Microbiology and Immunology at the University of Saskatchewan, Canada, before immigrating to Australia in 2000. He also holds a MSc in Immunology from the Atlantic Veterinary College and a BSc from the University of Prince Edward Island.
Society Memberships & Professional Activities: Member of the World Molecular Imaging Society
Specific Research Keywords:
Preclinical Imaging, Biospecimens, Biobanking, Flow Cytometry, Prostate Cancer, Bone Metastasis, Immunology,
Publications
Book Chapters
Xiao W; Graham PH; Power C; Li Y, 2010, 'Biomarkers for radiosensitivity and radiosensitivity targets in prostate cancer', in Nguyen SD (ed.), Tumour Suppressors, Nova Science Publishers, USA, pp. 189 - 228
Conference Papers
Mattner F; Hung T-T; Bourdier T; Lee B; Henderson D; Poon J; Doan J; Power C; Katsifis A; Fulham M, 2015, 'Evaluation of F-18-TSPO radiotracers in a prostate tumour model using PET', in
JOURNAL OF NUCLEAR MEDICINE
, SOC NUCLEAR MEDICINE INC, MD, Baltimore, presented at Annual Meeting of the Society-of-Nuclear-Medicine-and-Molecular-Imaging, MD, Baltimore, 06 June 2015 - 10 June 2015,
https://www.webofscience.com/api/gateway?GWVersion=2&SrcApp=PARTNER_APP&SrcAuth=LinksAMR&KeyUT=WOS:000358738801206&DestLinkType=FullRecord&DestApp=ALL_WOS&UsrCustomerID=891bb5ab6ba270e68a29b250adbe88d1
View more
Conference Presentations
Journal articles
View less
Location
Biological Resources Imaging Lab &
Biospecimen Services
Mark Wainwright Analytical Centre
Room 423, Level 4, Lowy Cancer Research Centre
University of New South Wales
Sydney, NSW 2052, Australia



Contact
(02) 90659812
+61 423 516 571