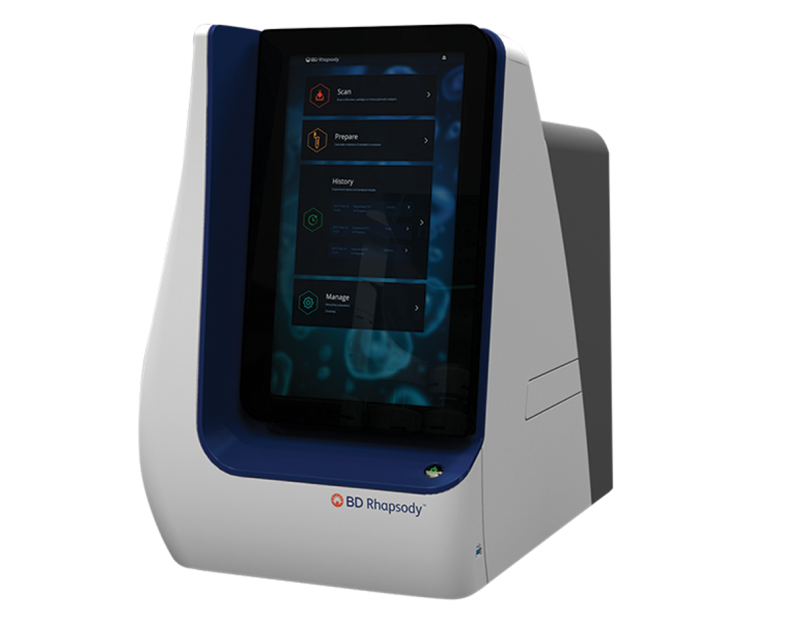 Unleash the power of high-dimensional biology to understand complex biological systems with our unique single-cell multiomics (scM) instruments. Your trusted partner in flow cytometry, BD Biosciences now provides high-quality scM instruments, reagents and bioinformatics tools that provide reliable, reproducible single-cell multiomics data necessary for use in translational research settings. With our microwell-based scM instruments, you can now obtain more proteomics and genomics data.
Easily run million-cell studies on an expanded throughput system with flexible capture and analysis of multiomic information. The BD Rhapsody™ HT Xpress System provides a broader cell input range (100–440,000 cell per cartridge) on the NEW BD Rhapsody™ 8-Lane Cartridge, enabling capture of more than 320,000 cells per cartridge without compromising performance. The system is also compatible with the BD Rhapsody™ Scanner for the visual workflow QC with a NEW multisample workflow.
Implement quality control measures at every step of the single-cell workflow allowing for real-time decision making regarding the quality of your input sample. The BD Rhapsody™ Scanner is compatible for use with the BD Rhapsody™ HT Xpress System and BD Rhapsody™ 8-Lane Cartridge for higher throughput applications. It can also be used in combination with the BD Rhapsody™ Express System and BD Rhapsody™ Single-Lane Cartridge for lower throughput needs. We recommend using the system when quality control is important, for users new to single-cell workflows, for the development of single-cell protocols, and when working with novel cell types or complex cell systems. The system allows control over every experiment and provides the ability to troubleshoot and optimize single-cell capture without sequencing.