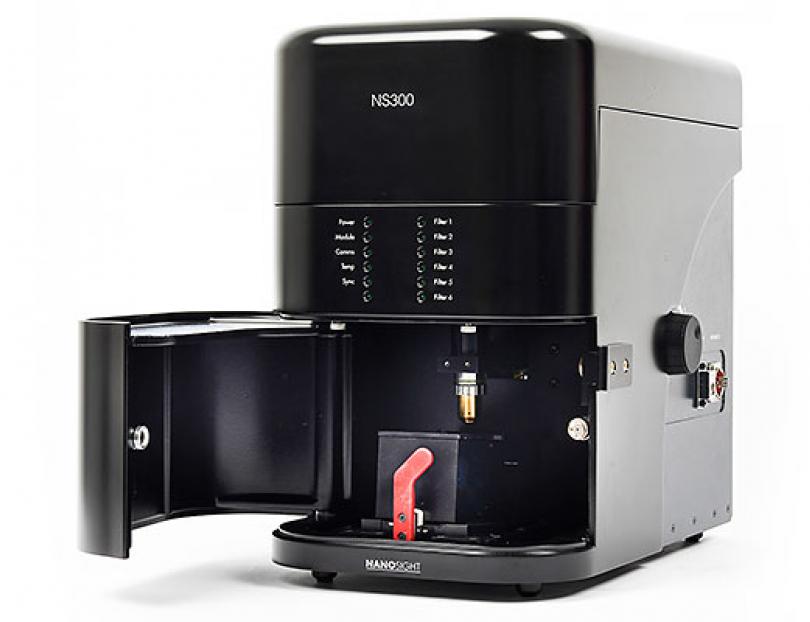 The NanoSight NS300 utilizes the latest version of NanoSight's particle characterization technology, Nanoparticle Tracking Analysis (NTA). This elegant new instrument offers the unique benefits scientists have come to expect from NanoSight in a compact format, with the major benefit of enhanced fluorescence capability.
It can visualize and measure particles in suspension in terms of size, light scattering intensity, fluorescence and count, and does so particle-by-particle in the range 10-1000 nm (material dependent). This addresses the needs of a wide variety of applications including protein aggregation, exosome and microvesicle research, and drug delivery systems. It contributes to characterization under the new EU Definition of Nanomaterials, and is particularly suited to the analysis of particles labelled with fluorescent quantum dots.
The NS300 is the natural progression from the NS500 and LM10. It takes the most popular features of these instruments and combines them into an easy to use, compact format with additional motorized fluorescence filter disc and throughput sample injector.
With a footprint measuring just 40 cm by 25 cm, the NS300 comes complete with a high sensitivity sCMOS camera, temperature control and a 405nm laser. The sample chamber and laser block are designed to be readily removed, to enable easy cleaning and high throughput.
The motorized filter disc, capable of being programmed from within the software to present up to six different fluorescent filters, will facilitate a more detailed assessment of fluorophores. It will give users the possibility to analyze each fluorescence population in terms of size and concentration; this ability to identify co-localized fluorophores will greatly enhance specificity and the ability to Phenotype.
The software's new rheology feature can measure viscosity in the range 0-5 centipoise, using probe particles to inform on non-Newtonian liquids in a shear-free manner, so being specifically applicable to the formation processes of hydrogels.