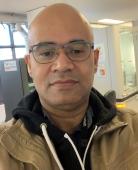 XRD Technical Officer
Facility:
Biography
I am responsible for training users in Powder X-Ray Diffraction (XRD) instrumentation, technique and data analysis. I offer XRD services as analytical solution to clients inside the University and outside. I am also available for collaborative research. My expertise includes quantitative mineralogy by XRD, XRD based Analytical solution for Pharmaceutical Industry, building material industry.
Background:
1999-2003: Sun Pharma Advanced Research Centre, Vododara, India.
2006-2010 : Application Specialist - XRD, PANalytical
2011-2015: BHP Billiton olympic Dam, South Australia
My Research Activities
Publications
Book Chapters
Bhattacharyya S; Maciejewska P; Stadler M; Börger L; Gülsün AM; Cicek HB; Cölfen H, 2006, 'Development of a Fast Fiber Based UV-Vis Multiwavelength Detector for an Ultracentrifuge', in Analytical Ultracentrifugation VIII, Springer
Conference Papers
Marjo CE; Bhadbhade M; Kumar N; Aldilla V; Rich A; Bhattacharyya S, 2017, 'Crystal engineering of self-complementary NH center dot center dot center dot N chloro-triazine tapes', in
ACTA CRYSTALLOGRAPHICA A-FOUNDATION AND ADVANCES
, INT UNION CRYSTALLOGRAPHY, pp. C673 - C673,
http://dx.doi.org/10.1107/S2053273317089008
View more
Location
Office: M70B, F10-Chemical Sciences,

Lab.: G65, F10- Chemical Sciences,
UNSW-Sydney,
Kensington, NSW2052


Contact
+61 (2) 93854533
+61 (2) 9385 4663