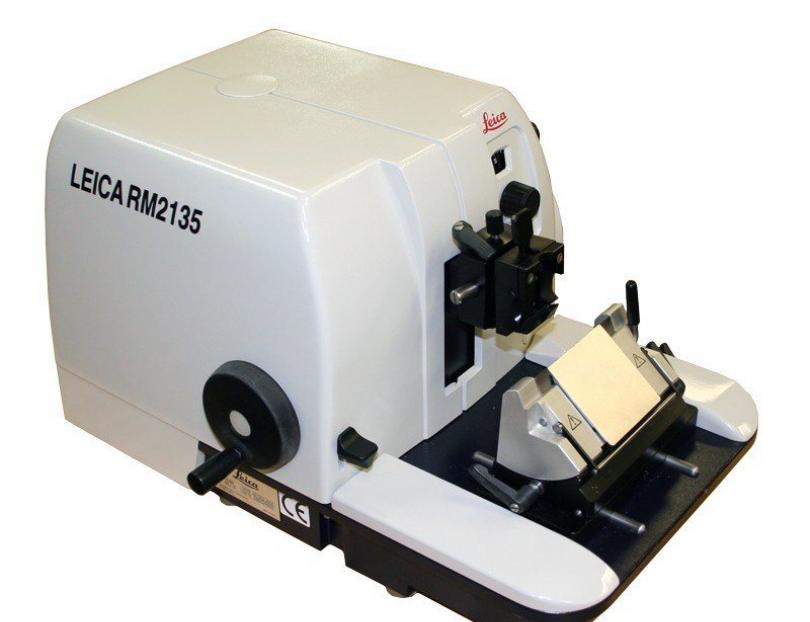 Leica RM2135 rotary microtome is used to cut very thin cross-sections of specimens (usually 4 µm) for routine and research histology studies in the fields of biology and medicine.  This instrument is designed for cutting soft and harder paraffin embedded specimens, as long as they are suitable for being cut manually.  The sectioning thickness setting range can be from 1 µm to 60 µm.  High quality paraffin sections could be used for varying staining, such as Haematoxylin and Eosin stain (H&E), immunohistochemistry (IHC), Immunofluorescent staining (IF) and In situ hybridization (ISH).
Material and Equipment
Sample paraffin blocks, single-use blades, conventional microscope slides, ice tray and water bath.
Procedures
Re-hydrate paraffin embedded specimen before cutting thin sections. Place the side to be cut on ice (block of ice in a tray) for at least 15 mins, up to a few hours depending of the dryness of the paraffin block.
Prepare water bath (40-45oC) ready to use.
Place a blade or a single-use blade on blade holder, place the paraffin block into the block clamp and bring the block holder to its rear limit.
Select a cutting thickness and orientate the block to the right position.
Cut sections. If the sections are thin 4-5 um they make a ribbon of sections attached to each other. Pick up the ribbon delicately and spread it on top of warm water.
Collect sections one by one with a microscope slide by lifting the slide while the section sticks to it.
De-engage the brake, dispose of the single-use blade in sharp bin if required, and repeat the procedure with the next pre-cooled specimen.
Clean up water bath and working area after the work is finish.