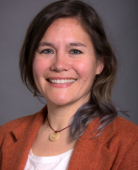 Research Associate (SEM-based Imaging & Microanalysis)
Facility:
Biography
Role
Major responsibility for managing research and training on the JEOL JXA-8500F Hyperprobe (EPMA), training and support across SEM & EDS platforms, and additional support for various instruments.
Interests
Archaeological Science - palaeodietary & palaeoenvironmental reconstruction via stable isotope analysis of floral and faunal remains; chemical analysis of artefacts using microscopy-based techniques (e.g. EPMA).
Additional active collaborations in Geology and Materials Science & Engineering
Public outreach and integration of art & science - participation in Ku-ring-gai Art+Science project and exhibition at Manly Art Gallery & Museum (December 2016-February 2017)
My Research Activities
Archaeological Science:
EPMA analysis of glass vessels to investigate raw materials, manufacturing techniques, and trade/exchange mechanisms
SEM (& EDS) examination of ceramic vessel body and glaze morphology and composition to examine firing methodology, raw material sourcing and manufacturing logistics
Palaeodietary and palaeoenvironmental reconstruction via light stable isotope analysis of faunal and floral remains
Geology:
Reconstruction of formation processes and investigation of economic viability of deposits via EPMA analysis (collaborations with Graham group, UNSW School of BEES)
Materials Science & Engineering:
Development and characterisation of new industrial materials using waste streams as source components (collaborations with UNSW SMaRT Centre)
Mentor, SEM-EDS trainer and collaborator with students from Bassman group (Harvey Mudd College, USA) via US National Science Foundation IRES grant scheme
Publications
Book Chapters
Privat K; Sobotkova A; Bakardzhiev S; Russeva V, 2018, 'Excavation and palaeodietary analysis of Bronze Age human remains from Boyanovo, Yambol province', in Ross S; Sobotkova A; Tzvetkova J; Nekhrizov G; Connor S (ed.),
The Tundzha Regional Archaeology Project Surface Survey, Palaeoecology, and Associated Studies in Central and Southeast Bulgaria, 2009-2015 Final Report
, Oxbow Books Limited, pp. 182 - 190,
https://www.oxbowbooks.com/oxbow/the-tundzha-regional-archaeology-project.html
View more
Conference Papers
Journal articles
Preprints
View less
Location
Electron Microscope Unit
Chemical Sciences Building (F10), Basement
Kensington Campus, UNSW


Contact
+61293856468
+61293856400