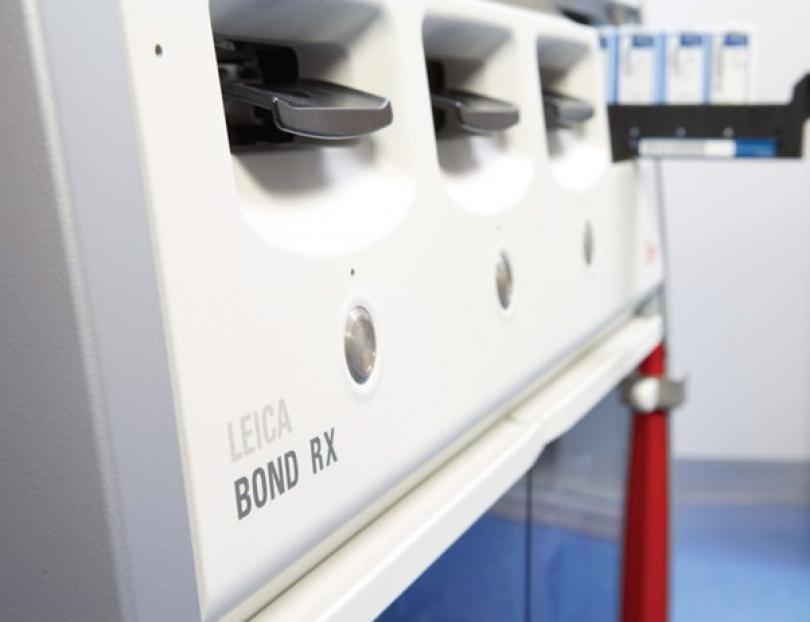 The Bond RXm automated staining system increases reproducibility of IHC (chromogenic or immunofluorescent) and multiplex staining. Custom protocols can be programmed for projects, complete with temperature control for steps such as antigen retrieval or TSA staining. Long staining protocols, such as OPAL multiplex can be set to be completed as an overnight run, while shorter protocols can be run during the business day. Due to the demand, we have for our specimen preparation services, this Bond RXm is only available for use by staff members of the Katharina Gaus Light Microscopy Facility.
The Bond RXm has a capacity for 30 slides (3 trays of 10 slides), and up to 3 different protocols can be run in parallel. A total of 36 reagent containers can be loaded into the Bond RXm at any one time. The Bond RXm has bulk reagent containers for washing, antigen retrieval, and dewax.
The following applications can be run on the Bond RXm:
 - Immunofluorescence (IF)
 - Immunohistochemistry (IHC)
 - Tyramide Signal Amplification (TSA)
 - Fluorescent Multiplex
 - Chromogenic Multiplex
 - Fluorescence in situ hybriidisation (FISH)
 - In situ hybridisation (ISH)
 - Locked nucleic acid (LNA)
 - Chromogenic in situ hybridisation (CISH
 - TUNEL assays
 - miRNA
 - Branched DNA assays (bDNA)
Note: We routinely run a number of these applications, however, optimisation of antibodies, and/or protocols may be required as part of a service request. Due to the variety of projects and applications, we will assess this on a per projects basis.
We recently upgraded to Bond RX version 7.0 software. This upgrade allows for completely automated Fluorescent multiplex staining for up to 9 colours and sequential chromogenic multiplex staining for up to 6 colours. We routinely perform OPAL multiplex staining using Akoya bioscience reagents and the Leica Bond RXm. For more information, please contact us and we will arrange a meeting.