2022 - September
What Can a Caterpillar Teach Us About Good Data Visualisation?
As researchers, we try to communicate clearly and effectively our thoughts and ideas through presentations and publications. We are storytellers and our research produces stories. This seminar will borrow from children's literature to illustrate how we can be more effective in presenting our stories visually.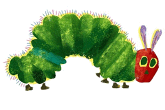 The talk will be about 30 minutes long including discussion.
Date: Wednesday 21 September 2022
Time: 2.30-3.30pm
Speaker: Nancy Briggs, Senior Statistical Consultant, UNSW Stats Central
Location: Online
Slides for the presentation are HERE